Shipfix is designed to be intuitive and as flexible as your preferences and needs require.
Creating Tabs
You can create an infinite number of Tabs on any area of the Shipfix platform including Inbox, Orders and Tonnage screens. You can filter, or set combinations of filters, for any number of specifications within each tab, and name them whatever you'd like.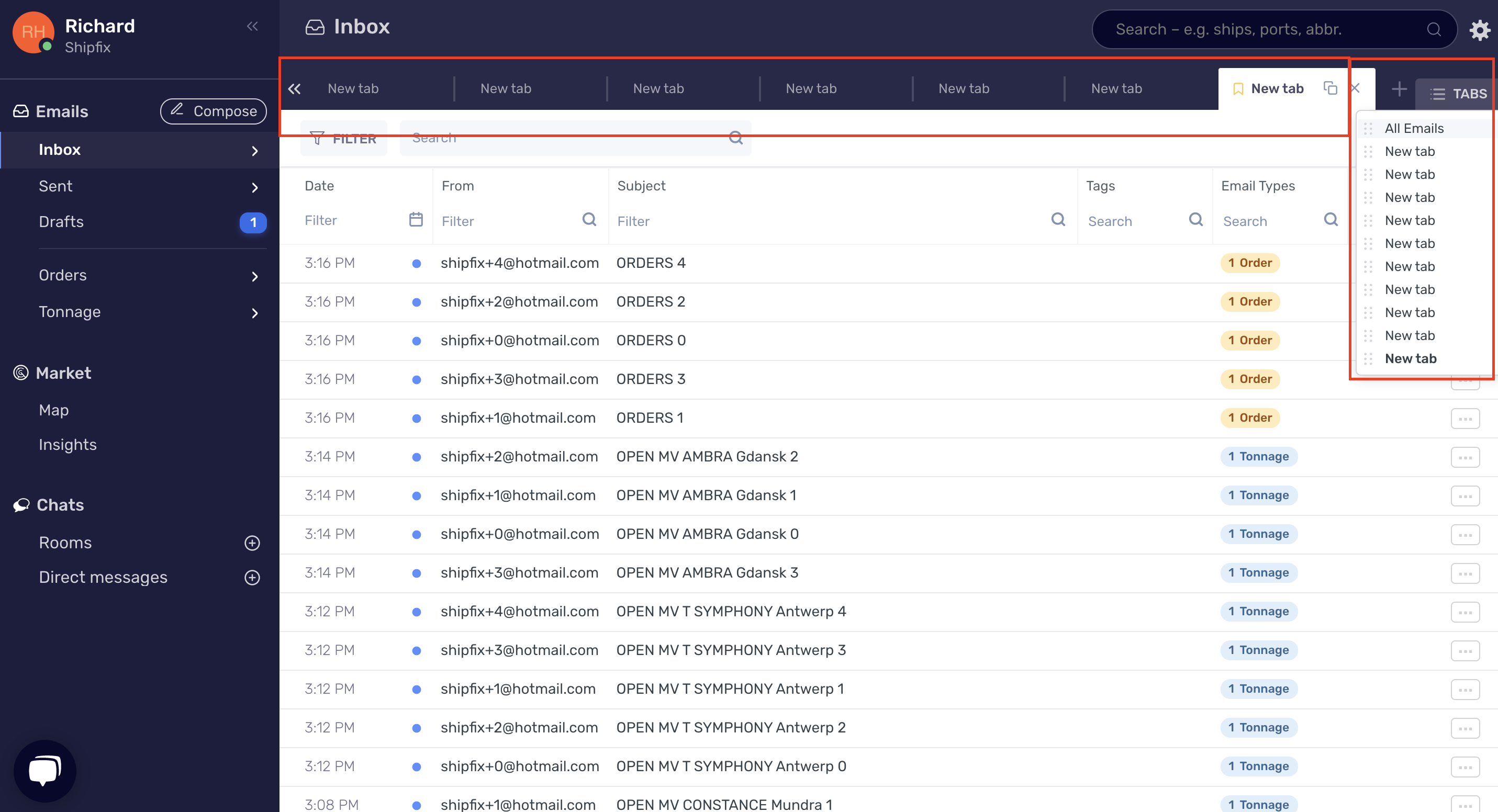 Whether you are looking for a particular business that requires specific search parameters, or if you are working several accounts at the same time and have limited bandwidth to monitor the whole market accordingly, this feature will help you greatly on a daily basis.
See below example on creating Tab for the tonnage offers in US Gulf, DWT 68-80K for the 15 days onward.

If you close a tab in error, don't worry! You can recover it by clicking

in the pop up notification at the top of your screen:

'Blue badge' Notifications
All tabs and alerts are live and dynamic, meaning there is no need to refresh your inbox manually. Your filters work automatically as you receive emails live.
Every new item that comes into (or out of) your inbox(es) will be automatically read, extracted and applied to the various Tabs/Filters that you've set. You'll receive a blue badge notification

on each relevant Tab for any/all new items.
Bookmarking Tabs
You can also 'bookmark' any tabs that you'd like to prioritise. This means that they'll appear down the left have side of your screen like traditional mailboxes. Simply click on

symbol on the left of the tab name to bookmark it. You'll also receive blue badge notifications here.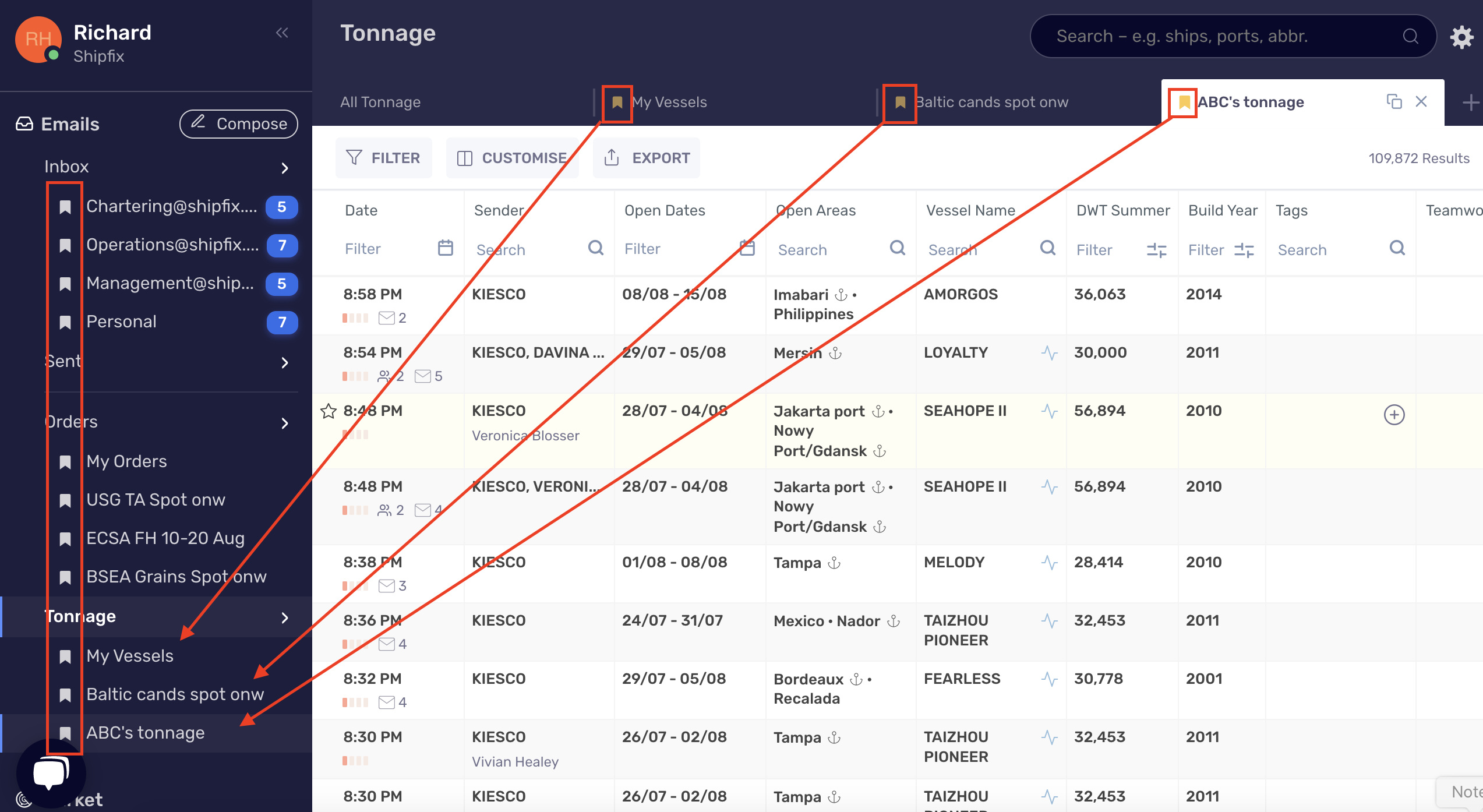 Duplicating an existing tab
You can duplicate or copy an existing tab in one click by simply pressing this symbol between the tab name and the ✖️button to close the tab

This feature is particularly helpful if you need to create several tabs that include many of the same search/filter parameters without having to re-enter all of the criteria one by one.
Should you need more assistance on this topic, please contact the Shipfix team, we will respond to you in minutes
Customising your tonnage and orders screens
Move columns
You can customise the layout of the columns in your various tabs to make them personal to your preferences and needs. Simply click on

and intuitively move around the various columns to suit your requirements.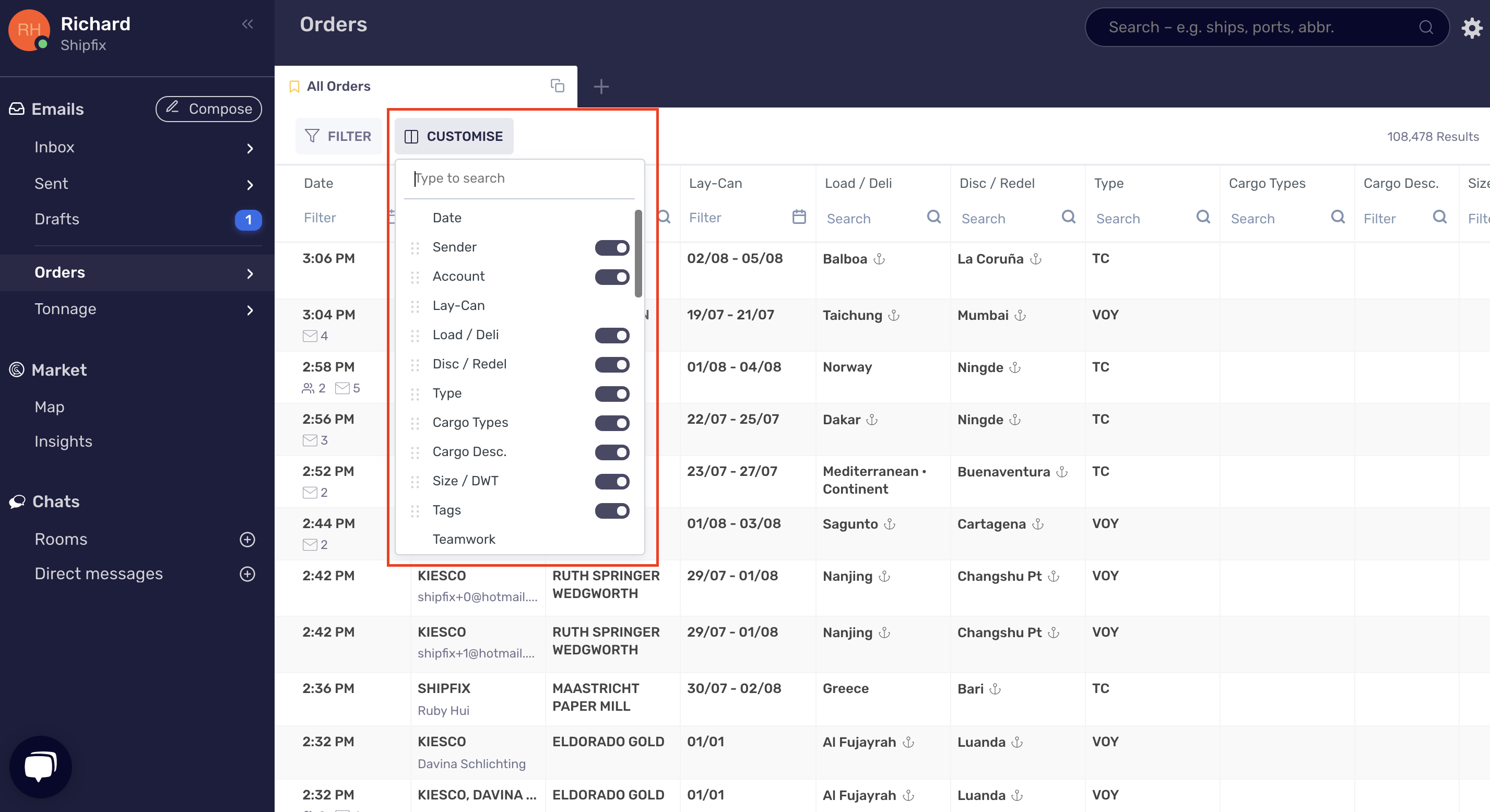 Add or remove columns
You can toggle (on/off) a huge number of additional columns to include more detailed filtering on your tabs. Either 'Type to Search' in the box, or scroll down to view these. They are unprecedentedly detailed and are designed to allow those with the most specific requirements to easily find the right vessels or orders.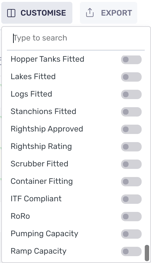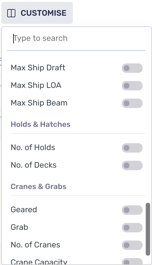 Please note: you do not have to add these as columns, you can filter them without needing extra columns in the

section.
Shrinking or expanding a column
You can resize any column in the tonnage and orders screens as well as the inbox (in table view), very much like in a spreadsheet. The video below shows how this is done
Sharing tabs
You can share your tabs with your colleagues. This can help them with their setup, or can help you both with your teamwork and collaboration between any desks or offices around the world.
Simply Copy and Paste the URL from any given tab and send it to your colleague(s). They'll then be able to add it to their Shipfix platform either as 'view only', or actually import it and use it themselves.
Need some help?
The Shipfix Customer Success team are on hand to assist you with your setup and ensure you're getting the most out of the platform.
Please get in touch if you have any questions.