We have released Shipfix Mobile! This should help you spend more time on the golf course... here's how to download it and its main features ...
Get Started
The following steps walk you through how to download Shipfix Mobile to your phone:
Open an internet browser on your phone

Android users, please use "Google Chrome"
or
iPhone (iOS) users, please use "Safari"

In the search bar of the browser, enter the Shipfix URL address that you use to enter the Shipfix platform
You will be taken to a login screen - fill in your login details

Once logged into the platform download the app version onto your phone:
iPhone users:


at the bottom of your phone screen click on the "upload button" ,
a menu of options appears, scroll up and select: "Add to Home Screen"
option to 'Add' the Shipfix icon appears; tap on "Add" on top right hand corner
the 'Shipfix' icon appears on your phone screen, click on this icon - and follow the login instructions for the 'Shipfix' app

Android users:

on this screen click on the 3 horizontal dotsin the bottom right corner,
a list of options appear, select "Request Desktop Site"


Great! You should now have the shipfix app installed on your phone's desktop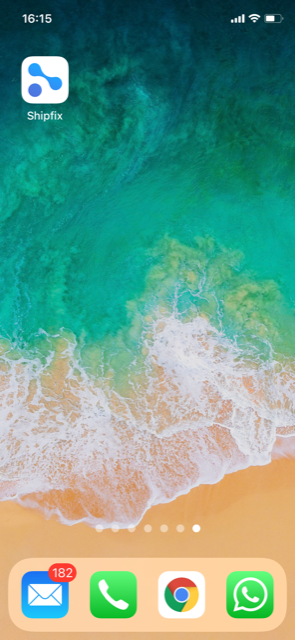 5. To login, fill in your details either by using Single Sign On (SSO) with Microsoft of Google, or with your Shipfix credentials (your email address & password)
6. Once successfully signed in, you will be taken by default to the 'inbox' screen of the mobile app.
Users of Shipfix Mobile can currently access and view the following features:
Use Inbox, Sent, Outbox & Drafts views
You can see bookmarked tabs as created on Shipfix Desktop
You can compose, reply/reply-all and forward emails
You can send to Contact Lists as created in Shipfix Desktop
You can view bookmarked tabs as created on Shipfix Desktop
You can search emails via Body and Subject TIP: Use "quotation marks" to search in an exact string (like Google)
Tag emails
NB: What is 'marked as read' on the Shipfix Mobile, is reflected on Shipfix Desktop, and vice versa
Upcoming Releases will see the addition of various complementary features that you currently use on the Shipfix platform to be accessed and operated from your mobile phone. Next release features will include the ability to:
Comment on threads
See notifications in the notifications panel
Set filters to the Search and email tabs
View Orders, Tonnage, & Fixtures screens
Send messages via our Messenger
Note To use the Shipfix app you need to be online (later versions will enable you to work offline)