Create custom map views to track and monitor vessels
The default map screen includes all vessels on the water with a live AIS signal.
Refine the map to reflect vessels that fit your business preference by clicking on the 'Ships' icon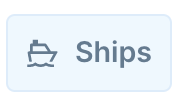 to open a drop-down menu of filters.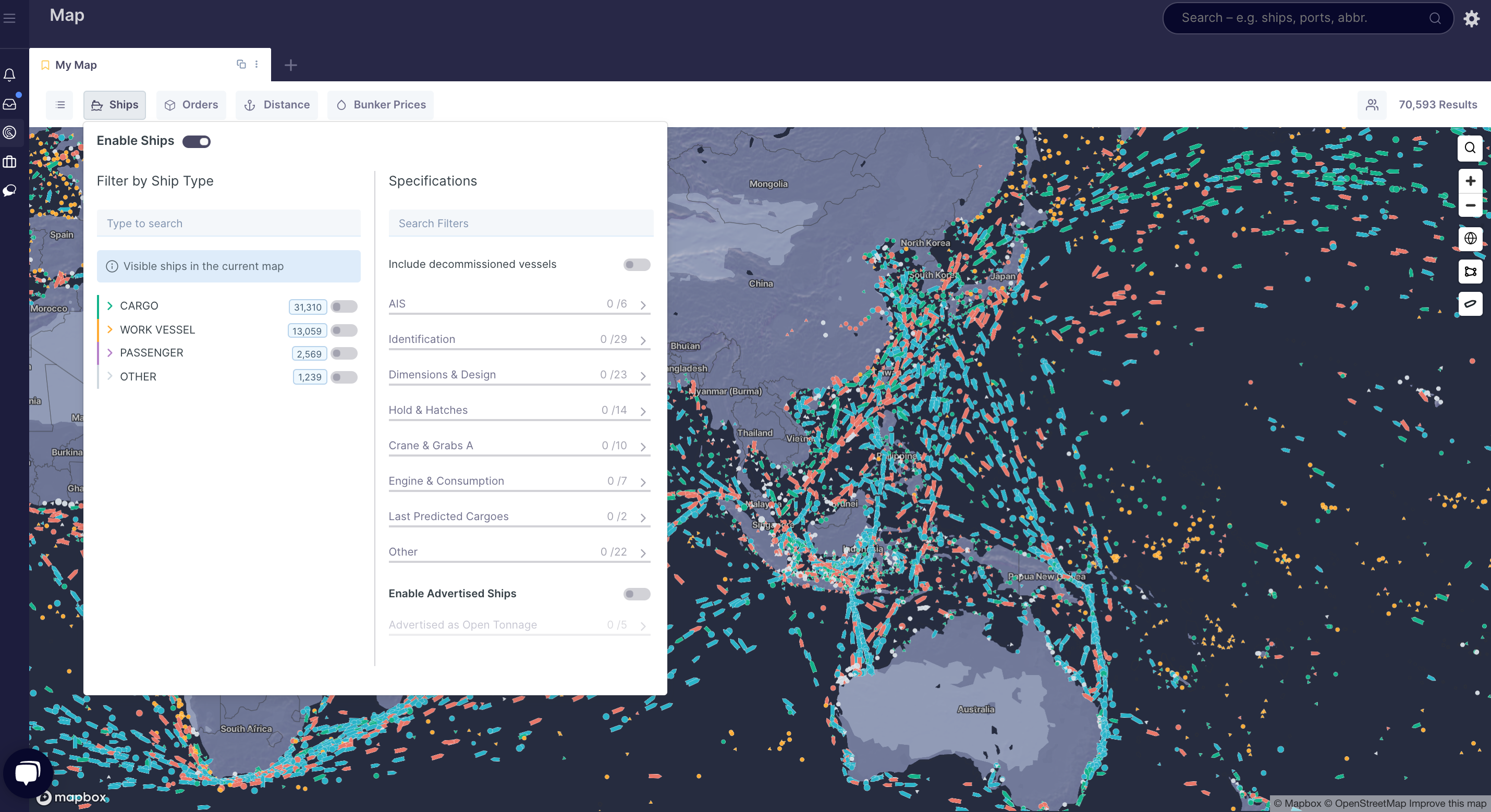 You can filter vessels by Ship Type, Specifications, and Advertised tonnage.
Filter by Ship Type - click on 'cargo' and toggle 'on' the preferred ship type (notice your map in the background starts to clear as you set filters)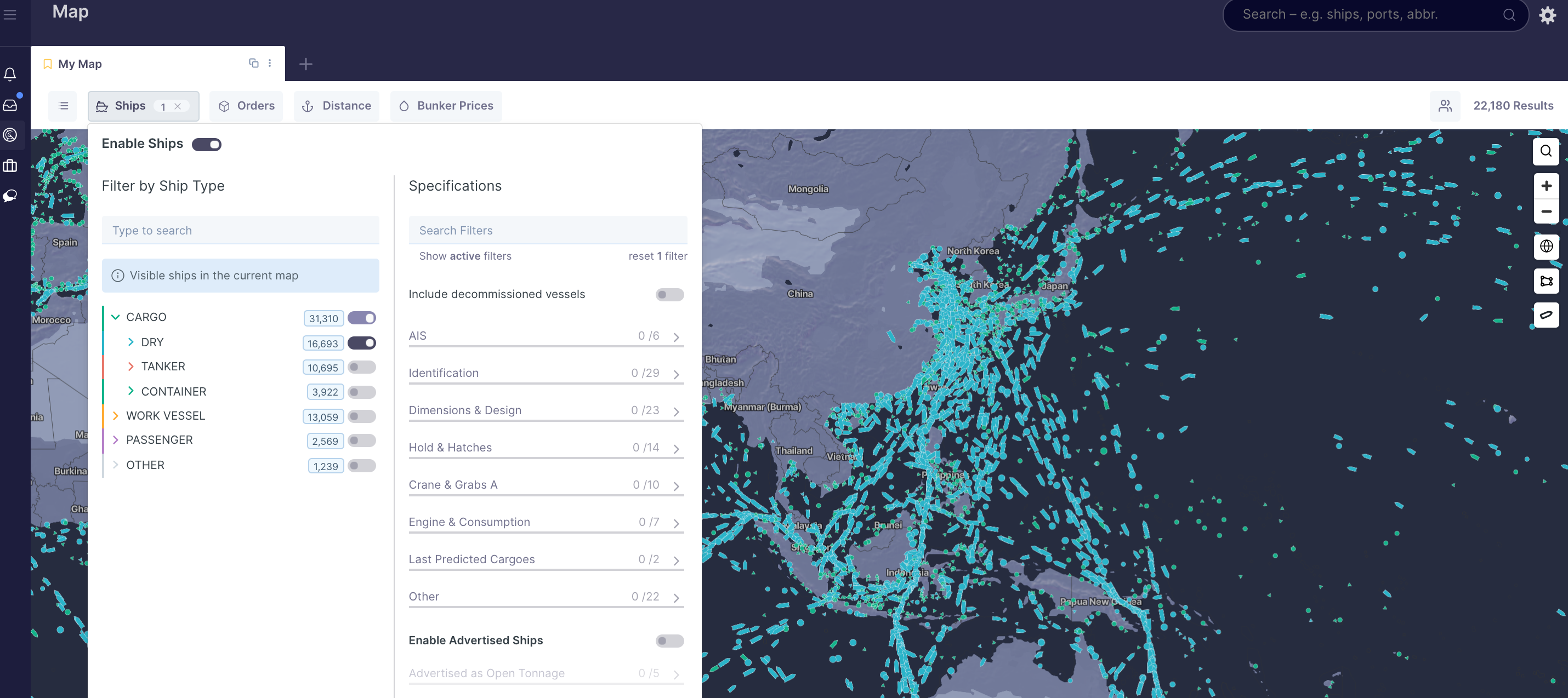 Filter by Specifications - consists of 9 filter headings, each has underlying sub-filters as follows:
Filter Heading
No. of Associated Sub-Filters
Associated Sub-Filters
Decomission toggle
1

Choose whether to include decommissioned ships, or not

AIS
6

Status, Destination, Last destination, ETA, Live speed, Draft (max %)

Identification
29

Vessel name, Ship type, Ship sub-type, Call sign, MMSI number, IMO number, Immarsat ID, HUll Number, Official number, Flag, Build year, Build price, Port of registry, Shipyard, Ship yard country, Ship sizes, Delivery date, Launch date, Deletion date, Registered owner, Group beneficial owner, Ship manager, Technical manager, Operator, BB charter, Last inspection date, Casualty date, DOC company, SMC Source

Dimensions & Design
23
International gross tonnage, International net tonnage, DWT summer, TPC summer, Draft summer, Depth moulded, LOA, LPP, Beam, Length registered, Height above keel, displacement, Classification society, Ice strengthen, AIS class, Number of decks, Strength tank top, Strength upper deck, Strength hatch over, Parallel body length laden, Parallel body length light, Number of cabins, Number of cars
Hold & Hatches
14
No. of hold, No. of Hatches, Largest hatch length, Largest Hatch breadth grain, Bale, Open Hatch, Box-Shaped, Closed Loading system, Closed sewage, Australian hold ladders, Cement grain holes fitted, No. of cargo pumps, No. of refrigerated containers,
Cranes & Grabs
10

Gear-less,

Grabber,

Gear Type, no. of cranes, Crane capacity, Crane outlook, Crane Combi, No. of grabs, Grab capacity, Grab Discharge suitable

Engine & Consumption
7
Propellor search (10 possible types listed), No. of all engines, No. of propulsion units, No. of thrusters, Max speed, Service speed, Total power
Last Predicted Cargoes
2
cargo type, time range
Other
22
Bollard pull, Insulated capacity, Permanent ballast capacity, AFF, CO2 Fitted, A60 Steel fitted bulkhead, Suez Panama fitted, Ballast tanks, Wing tanks fitted, Hopper tanks fitted, Lakes Fitted, Logs fitted, Stanchions fitted, RightShip approved, RightShip Rating, Scrubber fitted, Container Fitting, ITF compliant, RoRo, Pumping capacity, Ramp capacity
Display Advertised Tonnage - filter the map view to see only vessels that have been advertised to you as being open by applying any one/a combination/or all of the following 5 sub-filters ...
Open Dates (highlight a fixed date range or pre-select a rolling, spot onwards date range)
Open Areas
Senders
Business Preferences
Last Known Cargoes Advertised
Consider creating multiple tabs to enable you to:
follow a fleet or a group of vessels or a specific vessel of interest
check for advertised open tonnage, of a certain dwt, for a region, within a given date range and vessels that that are preferably grain clean
check vessels in ballast condition, by setting a draft percentage limit
check the map view of a different screen e.g. Inbox, Orders, Tonnage or Fixtures